Available Soon!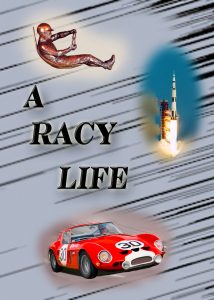 A Racy Life is a memoir about Larry Perkins, a renaissance type of guy, who does things people can only imagine. Think rockets, the Moon, Mars, serious car racing, giant computers, and firefighting.  And that's just getting started… add working in Europe, trekking through the wilds of Africa, blue-water sailing, creating monumental bronze sculptures, and marrying four times (just that last item would kill an ordinary man!)
Larry, an optimistic adventurer, is 'living the dream' with all its inherent risk-taking. Here is a person who regularly overcomes obstacles (one, life-threatening) as big as his remarkable achievements.   In his eighth decade Larry's life travels full circle when his old race car – the very first (and now iconic) Ferrari 250 GTO – beckons him back to the future. Together they take an unexpected and extraordinary trip.
This is a unique life story and a heartful love story, told through the eyes of Larry's wife, Petra, an award-winning author and partner in adventure.
FOREWORD by Denise McCluggage
Petra Perkins, author
More about this book
If you'd like to be notified when the book is available, please enter your name and email address.