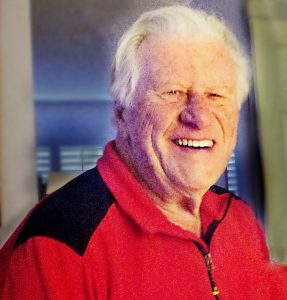 He's not the "other Larry Perkins" – a car racer from Australia. This guy is a race driver, too, but a whole lot more.
Early times ….
Lawrence Braman Perkins grew up in a conventional Deep South town called Natchez, Mississippi. He ate crowder peas and hog jowl, delivered newspapers, fished in the creek, made pop guns with chinaberry ammo, and spoke with a drawl. Then, in 1948, he went away to boarding school – Staunton Military Academy – and a new life. At SMA they taught boys to be self-reliant, precise, obedient, and take no crazy risks (unless it was for fellow soldiers or country). Cadet L. B. Perkins got the first three lessons OK, but he began to develop a taste for the unorthodox. Eventually that led to motor racing … in an era when smoking and sex were "safe" but car racing was deemed a health hazard.
After stints in the Air Force and college, armed with a BS in Geology, he tried a first job as a soap salesman. Bad decision; it provided zero excitement, so he moved on, signing up for "rocket scientist". The space program offered plenty of challenges, working with satellites, launch vehicles and the Apollo Saturn moon mission. Larry had this thing for speed, à la rockets and car racing… and at Cape Canaveral he found he could indulge in both.
An appetite for speed ….
He was an IBM systems engineer, part of the new large computer system elite, developing software. He demonstrated a prototype rocket checkout system to Werner von Braun; he was at the Cape during the devastating Apollo fire; he was there during the tense Cuban Missile Crisis. As if that wasn't enough excitement – Larry became a serious race driver and (covert) racing instructor to NASA astronauts, who were always searching for more thrills.
In 1960, Larry had met well-known German driver Wolfgang von Trips, who took him for his first Ferrari ride and encouraged him to try racing. He took the advice and, although running in SCCA all around the Southeast, his best wins were in FIA long-distance events at the Daytona and Sebring tracks. It was a time when the Beatles were getting hot in America, but Larry didn't know about them; he was busy at work and racing hot cars like the Cooper T52, the Porsche 90 SC, and the first Ferrari 250 GTO. Yes, that one – now, arguably, the most iconic and valuable car in the world.
He raced with the "big boys''– Phil Hill (first American Grand Prix World Champion), Mario Andretti of Indy fame (and the only other American World Champion), Dan Gurney, Mexican great Pedro Rodriquez, Jim Clark, John Surtees – and became friends with accomplished journalist/driver Denise McCluggage. It was an electrifying decade to be in the sport, the era when the Ferrari/Ford competitive battles were raging.
Movin' on ….
Larry and his Ferrari GTO – nicknamed Sophia (for the hot, sexy Italian Sophia Loren) – enjoyed thrilling adventures together. But eventually he sold her and moved with his family to Denver, to join new aerospace programs like Space Shuttle, Venus Radar Mapper and Viking, the first robotic soft-lander on Mars. He became a computer specialist in Europe. He returned to Colorado, worked on satellite systems, and pursued hiking, skiing, firefighting.
Like a lot of mid-lifers, he divorced, fell in love, remarried. He and Petra learned to sail and she took up sailboat racing with him. She became a pilot and he took flying lessons with her. Life was exciting every day. Meanwhile, he drank too much (a growing life-long addiction) which soon threated to kill him, but Petra helped him to stop, and she saved their lives. Like many things he's done, it wasn't easy – maybe the hardest of all – but, because Larry is a do-er, he did it.
A new era ….
Larry creates monumental bronze sculptures – including animals, firefighters, and racing heroes like Phil Hill and Wolfgang von Trips. He teaches sculpture to kids and adults. He is a community leader in art and local politics, a writer, a gourmet, a man driven by – more than anything – Curiosity, with a capital 'C'. Curiosity led him to walk 120 miles in the Kenyan bush, to see wild animals up front and personal, when he was 74. Double whew! After all that, the excitement level seemed to dwindle for Larry who lamented it would never again approach the thrills he rocked in "the good old days" of rockets and racing. He settled into a comfortable rocking chair, right?
Wrong. One day Sophia came back, miraculously, into his life! He had been looking for her for years, but she found him. Together they transformed into time travelers, taking Larry full circle, back to his future. He and his beloved Ferrari 250 GTO got re-energized, pulled their respective acts together and won a world-class car competition. The racy life continues….