A Car is Born
In the early hours of February 24, 1962, someone – someone very trusted – at the Ferrari factory in Maranello, Italy, inserts a key into the ignition of the new car they have just put the finishing touches on during the night. He gives the gas a pump or two, turns the key and listens to the starter whine… then … RRRHUFFAH RRRHUFFAH!… it fires explosively and the tach needle leaps to 1500 rpm. The man may sit still a minute, listening to the motor. Perhaps he's having a last drag on his cigarette, inhaling it along with the aroma of fresh oil and fuel as he warms the engine, for it is late winter and gets chilly even in the exotic boot of southern Europe. The driver then weaves out the back gate, onto the Via Nazionale Abertone Inferiore, past the Hotel Planet, the Via Alfredo Dino Ferrari, through streets with empty piazzas and into a soft dawn awakening the Etruscan countryside. As he moves through the transmission's gears on the hills, attuned to the unique song of the Testa Rossa 3-liter engine, he must pass early risers such as a few farmers or bakers waving at the amazingly fast red car as it flashes by them. They could very well be saying: "Coso diavalo é che?" ("What the hell is that?") The man probably can't believe his luck now and must be feeling blessed to be the one testing this stunning and phenomenal machine for it is the soon-to-be-iconic Ferrari 250 GTO Berlinetta. This is its birthday.
Back at the factory and all tuned up, the V-12 engine is no doubt just cooling down when the international motoring press arrives. Journalists and VIPs have been invited into the private courtyard for the car's presentation, to see it preening in the rising sun. Enzo Ferrari's press conference to unveil his latest competition cars includes this one, a most unusual light-weight front-engine GT (Grand Touring) car capable of possibly 180-190 mph. Here is the swoopy low-profile of the iconic Sergio Scaglietti body style that 32 of the 36 GTOs would eventually have. Its paint is Rosso Cina, the classic Ferrari red, with a longitudinal Italian Tricolore stripe. When the reporters and photographers congregate in the lot next to the yellow Ferrari headquarters building, the car is parked in the back of the new fleet, alone, waiting to be noticed, admired, and have its birthday photos taken.
Ferrari designers and engineers peer out the windows over the congregation, probably congratulating themselves on this great achievement in high performance race car design and sleek, low-slung esthetic beauty. One can imagine these proud Italian fathers handing out cigars for their flagship race car. But they probably aren't smoking them yet because, I suspect, they are holding their collective breaths.
At the time of the press conference, just two GTOs exist: this one is Serial #3223 GT, and the second, #3387 GT, is behind closed doors being prepared for the Sebring 12-Hour race next month. International motor racing is regulated by the FIA (Federation Internationale de l'Automobile). FIA regulations require at least one hundred examples of a car to be built in order for it to be "homologated", i.e.: approved, for Grand Touring Car Racing. As of this day, there are only two cars completed. Enzo needs 98 more for homologation in 1962 competition.
The curious press is deflected by an explanation – this is just an upgraded model of the existing 250 GT Short-Wheelbase Berlinetta line – a natural evolution of the design that would not require new certification. No big deal, right? Wrong. Under the new skin it has a number of major design changes to improve speed, handling and reliability on the track, and it has none of the Grand Touring "creature comforts" of its predecessor, the 250 SWB. (For example, instead of beautiful hand-matched hand-stitched leather seat covers, it has plain blue cloth.) In reality, it is a thinly-disguised limited-edition new race car.
While this drama ensues, Enzo is dealing with staff trouble. Three months before – after a heated organizational dispute over his wife's (Laura's) constant interference with office politics – Enzo fired the whole lead design team and installed a new team to pick up the ball. So #3223 GT had step-fathers who refined and completed the configuration. The savvy press corps must be wondering when they look inside, not seeing all the accoutrements of a Grand Touring car – such as a speedometer. There is only a center-mounted tachometer the size of a small pie tin, with 10K rpm on the dial. This car is not a get-the-groceries car. It is designed as a full-on highest speed racing machine. No one has a clue how hot it will be, how well it will perform, how desired it will become (except possibly the uomo fortunato who has just taken it out for a spin).
After its debut the red car leaves Italy. Later, in June, it gets noticed in France at the 1962 Le Mans 24-Hour race when it sits in the wings as a 'back-up' race car in case any of the "real" ones fail. It may go around the track a time or two to warm up, but other than that, it's still a virgin racer. When Le Mans is over, GTO 3223 GT gets loaded onto a boat and arrives on the docks of New York City. Like many other young immigrants to the U.S., its future is unknown.
~~~
The first owner, Bill McKelvy of Scuderia Bear, reportedly paid American importer Luigi Chinetti about $14,000 for the car – a big sum in 1962 – and raced it with a number of drivers in the Northeast and Florida through 1962 and early '63. He then sold it for about $6000 to one of those drivers, car dealer Bob Grossman, who ran it briefly in New York and Canada. It performed as predicted, like a thoroughbred, and lived up to its initial reputation as a contender, finishing in respectably high positions in FIA races.
Race cars don't last as long as race horses. After working like a Trojan for two years, 3223 GT became a "used race car" which needed investments in reconditioning, so Grossman sold it for $10,000 (a tidy profit indeed) to a driver in Cocoa Beach, Florida named Larry Perkins, who was searching for a GTO to fix up and mix it up at Daytona and Sebring races. Larry was a rather unlikely race driver because his day job was not at the track; it was at Cape Canaveral, on the Apollo space program, working with astronauts to land on the moon by the end of the decade. But Enzo Ferrari had checked him out, as he did anyone who wanted to race one of his cars – for he had a consummate reputation and demanding standards to uphold – and decided that Larry, the rocket scientist, could race, and be possessed by, this 250 GTO.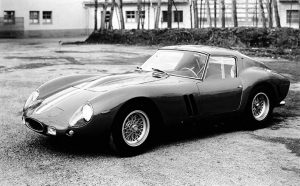 Maranello – 24 February 1962 – A car is born.